CLUB T-SHIRT FUNDRAISER

Show your Aggie pride on the East Coast while
helping send some local students to Aggieland!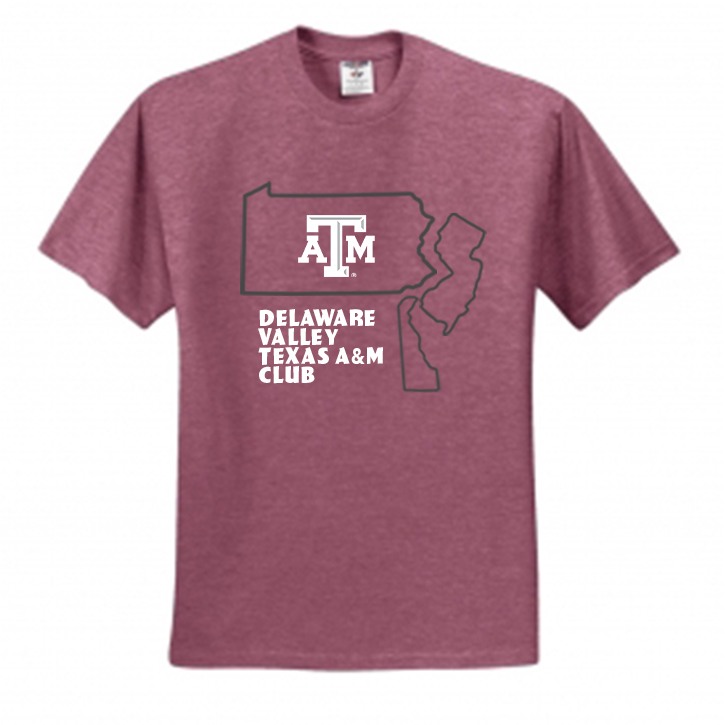 (Click on shirt to place your order!)
The primary mission of the Delaware Valley A&M Club is to provide
students from Pennsylvania, New Jersey, and Delaware scholarships
to help with the cost of attending Texas A&M.
As part of that fundraising mission, we are selling t-shirts with 100% of the proceeds
going directly to support the scholarship fund!
T-shirts for adults start at $20, while shirts for kids are $15.

Shirts are a "Jerzee" brand with a 50/50 cotton-polyester blend for maximum softness and comfort. Color is a "heathered maroon" as seen in image. Shirts tend to run "true to size" – so in other words whatever the size you typically get for a t-shirt will likely fit you.
To maximize order efficiency, one bulk order will be placed with the shirt company.
As such, shirts will not be ready for shipping until around the first week of October.
Refunds will be offered up until time that shirts are printed. Once shirts are
printed and/or shipped, all sales are final and no refunds will be offered.
A $6 "service fee" is added to all orders to cover shipping costs.
While shirt orders support the scholarship fund, it is not tax-deductible. However, if you make an additional donation to the scholarship fund at check-out, that portion is deductible and you will receive a corresponding thank you letter for your tax records.
And a final reminder: ALL funds raised from the event directly go to the Delaware Valley A&M Club's scholarship fund which helps send area PA/NJ/DE students to Texas A&M!
For questions regarding this t-shirt fundraiser, contact Jordan Meserole at delvalamc@aggienetwork.com


If you prefer to pay with cash or check, you may still use
the button above, and at the checkout cart there is a an option
to "Pay By Cash / Check". Or, if you do not prefer to buy
online, email DelValAMC@aggienetwork.com with number of tickets you want
If you wish to pay by check, please make checks out to
"Delaware Valley A&M Club" or "DVTAMC" and mail to:
358 Walnut St   Jenkintown, PA 19046
Contact Jordan Meserole with questions including mailing address.