You just missed us!
The 2019 bbq has come and gone.
But stay tuned for the 2020 date! Scroll below to see information
from last year's event. Thanks to all that attended!
SATURDAY OCTOBER 26, 2019
12 p.m. – 4 p.m.
Cranbury, NJ
Texas is coming to the East Coast!
Join us for our annual Fall BBQ fundraiser! The event features a Texas-style cookout, a silent auction, a dessert competition, cornhole & "tailgate" games, and some fellowship with your fellow Aggies.
All funds raised from the event directly go to the Delaware Valley A&M Club's scholarship fund which helps send area PA/NJ/DE students to Texas A&M.
Scroll down for full information, or click one of these words to jump to a section:
Buy Tickets  |  Menu  |  Sponsor  |  Auction  |  Volunteer  |  Dessert Competition
_________________
EVENT INFO
*NOTE: The information below is for reference. Stay tuned for 2020 dates!
Saturday, October 26, 2019
12 p.m. – 4 p.m.
2 Commerce Drive, Cranbury, NJ 08512
(This location has indoor and outdoor seating options, so the event is rain or shine)
Tickets:
$25 – ages 13 and older
$12 – ages 7 to 12
Free – 6 and under
This is an open event and not limited to only DVTAMC members. All friends and family are welcome!



*Note: Ticket purchases are non-refundable after Tuesday Oct. 22 at 11:59 p.m.
If you prefer to pay with cash or check, you may still use
the button above, and at the checkout cart there is a an option
to "Pay By Cash / Check". Or, if you do not prefer to buy
online, email DelValAMC@aggienetwork.com with number of tickets you want
In the spirit of maximizing scholarship funds, a $2.50 service fee
applies to online orders to cover the payment processing portal fee
charged to us. If you wish to purchase tickets without the $2.50 fee you
may mail a check in advance or pay cash at the door.
Contact Jordan Meserole with questions including mailing address.
Activities:
Dessert competition (enter yours today!)
Tailgate games like cornhole
Silent Auction
College football on the big screen
Transportation:
If you have transportation needs, we suggest carpooling!
If you want to sign up to request a ride, click here to fill out the form.
(Or, if you're willing to lend a ride, fill out the form too!)
If we receive enough Ags from one area requesting a ride (ex: Center City)
we may explore a private shuttle to the BBQ from that area.
_________________
MENU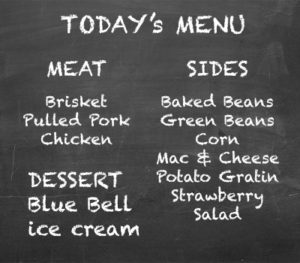 Beverages: Water, Tea, Dr. Pepper, Big Red soda, Miller Lite, Shiner Beer
_________________
SPONSORS
We are seeking event sponsors to help maximize the scholarship funds we raise.
Sponsorship levels are:
$300 – "Good Bull" title sponsor
(Includes: six tickets to event, option to have a banner or informational table displayed, logo/name displayed on table tents, logo/name included on the next two club emails to entire roster, logo/name displayed on website)
$150 – "Blue Bell" level sponsor
(Includes: four tickets, name displayed on table tents, name/logo placed on all ice cream tubs and logo prominently displayed on ice cream table, logo/name displayed on website)
$75 – "Maroon" level sponsor
(Includes: two tickets to event, name displayed on table tents, name on website).
_________________
AUCTION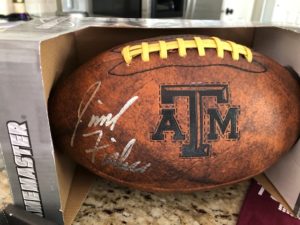 Featured item: Football signed by Jimbo Fisher
To help raise money for our scholarship fund, we will have a silent auction.
If you're interested in donating an item to the auction, please
email us at DelValAMC@aggienetwork.com
We turn away no item, no matter how small! Even WaWa gift cards!
These items are currently featured in our auction:
Jimbo Fisher Signed Football

Round of golf at Doylestown Country Club

2 of 1/2 Gallons of
Blue Bell Ice Cream

Rocky poster signed by Sylvester Stallone

Photo signed by President Bush 41 and President Bush 45 and both wives

A&M Coaster Set

A&M Decorative Bottle Opener (wall-hung)

A&M Cutting Board

A&M License Plate Cover

Howdy door mat

Ladies A&M earrings with canvas tote bag

TAMU reusable grocery bag with HEB brand chips & salsa, 6 pack of Shiner
_________________
VOLUNTEER
Interested in helping out? Fill out the form below and we'll contact you!
This link is quite active yet! Check back soon!
_________________
DESSERT COMPETITION
We're seeking the best bakers out there to enter our dessert competition!
The best dessert will win a special prize!
Entrants only need to make enough for about 20 people to have
a "small sample" – just a couple fork-fulls
(ex: two regular size pies, one large double-pan cobbler, etc)
This link is quite active yet! Check back soon!
_________________
TRANSPORTATION
Want to come to the BBQ but don't have an easy way to get there?
Willing to offer a ride to an Ag that may live near you?
Fill out the form below and we will attempt to match up Ags for carpooling!
(Note: we will not share your info publicly, including directly with a possible driver or rider.
We will discuss information with you first before providing out your contact info
with another person, and we will remain involved in those planning discussions.)
This link is quite active yet! Check back soon!